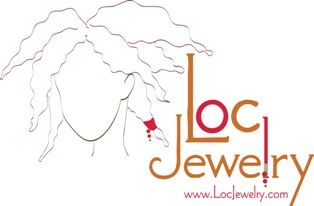 WIN AN EXCLUSIVE LOCJEWEL FROM LOCJEWELRY.COM
This contest is open to ALL readers of LocRocker.com! Contest runs Monday, July 19- Sunday, July 25, 2010 (11:59pm EST). Winners will be announced on Monday, July 26, 2010.
Here's your chance to take home a beautiful exclusive LocJewel hair adornment from LocJewelry.com designed by none other than Ms. B herself!! Not only is this LocJewel customized by Ms. B, LocJewels aren't even available for sale yet so you definitely want to nab this chance to win one of your own!
The "LocRocker" LocJewel showcases a prosperity green faceted bead wrapped with royalty purple tarnish resistant wire. "LocRocker" is the perfect blend of classy meets casual, allowing you to dress it up or dress it down without sacrificing your overall look. Because it's a versatile hair accessory you can rock "LocRocker" on locs, twists, braids or even loose hair! Your style...your way!

What do you need to do for your chance to win "LocRocker"?
It's simple...
LocJewelry.com
needs Twitter followers and Facebook fans. All you have to do is execute the following steps and THREE of you will call yourself proud "LocRocker" owners:
Go to www.LocJewelry.com
Click on the Twitter and Facebook icons to follow and like LocJewelry respectively
Come back to this post announcing the contest and post a comment saying you have followed LJ and/or liked LJ. Don't forget to leave your Twitter name in the comment!
That's it!!
How the winners are chosen
RANDOMLY!! 3 random posts AKA "The Winners" will be selected. You'll receive a DM on Twitter from LocJewelry asking for your FB names to verify that part of the entry and of course your address. Then you get to sit by the mailbox excitedly waiting for your LocJewel!
Special Note from LocJewelry.com:
I want to thank all of you for entering and encourage you to take a look around the site once you get there. I absolutely welcome all feedback (forreal!). Also, just to let you know since I love and appreciate my customers, everyone who signs up for a FREE account on LocJewelry.com will receive a special thank you gift.