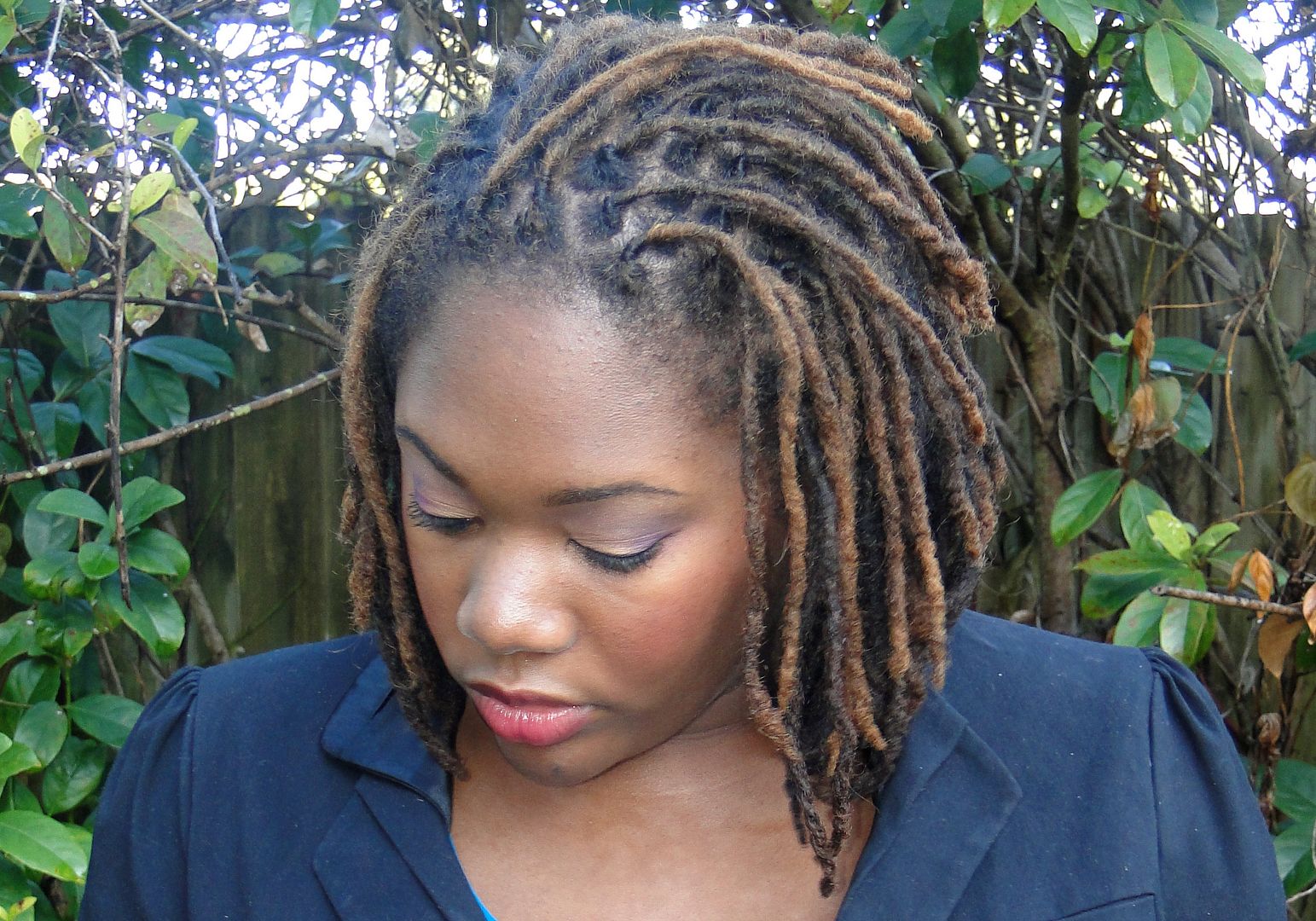 I hope everyone is enjoying their holiday season!! I'll be back with updates and glorious natural hair stuff in the coming days. In the meantime, I found a Q&A from last week that I totally forgot to post. Check it ouuuut.
Q: You've had your locs for 2 years now. Do you have any regrets?
A:
I really do wish I would have started off with larger locs. The whole "combining" thing got me down for several months. Two years later and I am STIL combining a few locs. I'm not as annoyed by the process anymore but it could have all been alleviated had I started off with larger locs. But oh well. I try not to live life making regrets. :)
Q: You've colored your hair a lot. Have you noticed any breakage? And how do you keep your color vibrant?
A:
I HAVE colored my hair a lot, uh? Almost too much. I'm at the point where I really like it so I doubt I'll be coloring it again. My hair has always taken to color well. I have never experienced any breakage. If anything, I do find that I have to condition my locs a great deal because they tend to be drier a few weeks after coloring. I keep them conditioned by using Jane Carter's Leave-In Conditioner. A little bit of that every few days seems to really keep the locs softer. As far as color vibrancy, I think it is the nature of hair dyes to fade away over time. I've realized this and don't really "try" to keep them vibrant. However, I am guilty of spending a good amount of time outside. I live in Florida so not being around the sun is inevitable. I know UV rays can be drying on the locs but I also think it contributes to my color staying around a bit longer.
Q: Do you focus much on your hairline's health?
A:
I don't blog about it much but I am actually very paranoid when it comes to my hairline. As much as I love keeping the locs out of my face and off of my neck, I actually let them hang more often than not. I don't want to get in the habit of wearing too many ponytails and styles. Any tugging on the hairline, even for a few days freaks me out. So yes, I do focus on the hairline's health. I haven't noticed any receding but I am keeping my eye on that and preventing that problem the best way that I can.
Q: So i read that you think its a good idea to wear an afro for awhile before locking. But i really want to lock even though I just got a TWA a few days ago. Why do you say this?
A:
Of course it's up to you and you have to do what feels comfortable for you but I think that loose natural hair has a lot to offer. You miss a great deal of that when you go from a perm to locs. You miss the teen weeny afro and 2-strand twists, afro puffs and various styles. You miss the opportunity to really understand how to take care of your natural texture and watching it change and transform. Loc'ing up does not mean that you can not enjoy your hair but I know a lot of loc'ers who have combed out or cut off their locs because they were itching to explore the loose natural life. Veteran naturals have done the same but I think you will truly enjoy your locs even more if you truly enjoy and get to know your natural hair. But if you're ready to loc up now, rock on!
Q: when did you decide to become a natural hair guru? I've really loving natural hair and want to start a blog like you.
A:
Thanks a ton for the compliment but I would never call myself a guru. Simply put, I am a writer who happens to have a passion for natural hair. I do not know all that there is to know about it. I did not go to school for it nor do I have any formal training. My advice to you is, if you too, are someone who just has a passion for natural hair, sure...start a blog. But be sure that you blog about your own experience and be careful about the advice that you toss out. I always refer to a person or source that knows more than me before I answer any questions. And don't assume that us bloggers or YouTube "gurus" are professionals. A lot of us are not. Take what we say with a grain of salt. Do you own research and draw your own conclusions. And I recommend that you tell your future readers the same. Let us know when your blog drops!
Q: Do u think you'll ever get sisterlocks? maybe as your second set of locs? i could see u with them.
A:
I'll never say never but I don't see it in my future. I am head over heels in love with traditional locs. If anything, I may go with a larger set my next time around. I am forever getting questions about Sisterlocks and I STILL don't know much about them. I need to brush up on some knowledge. :)
Q: How often do you oil your scalp?
A:
When I feel like my scalp needs it. I used to be on this "I oil my scalp every 2-3 days" thing but you know what? I was doing it out of habit. My scalp really didn't NEED to be oiled. And so I started listening to my hair. If it felt dry and itchy, it was time for oil. As of now, I can probably go a week or a week and a half without any oil. But my locs practically crave for water and so it gets some of that or leave-in conditioner daily.
Q: Think you'll loc up your future kids' hair? Or perm it if they want? both are permanent so i don't know what to do with my daughter's hair.
A:
I will loc their hair only if they ask. And I doubt my girls will want a perm after I tell them about all of the damaging ingredients in the lye. By the time I have kids (yearssss from now), I think they'll get a better idea of how beautiful natural hair is. And since their mother will know how to take care of it without putting them through hell, I think they'll embrace their natural kinks. And if they still want perms...they can do as they please when they're 18. I wouldn't consider locs or a perm permanent but if I were you, I'd weigh the pro's and con's of locs and a perm. You already know what I'm going to say. LOL!
Got any questions about my locs? You can email me about whatever at Brittany@LocRocker.com.