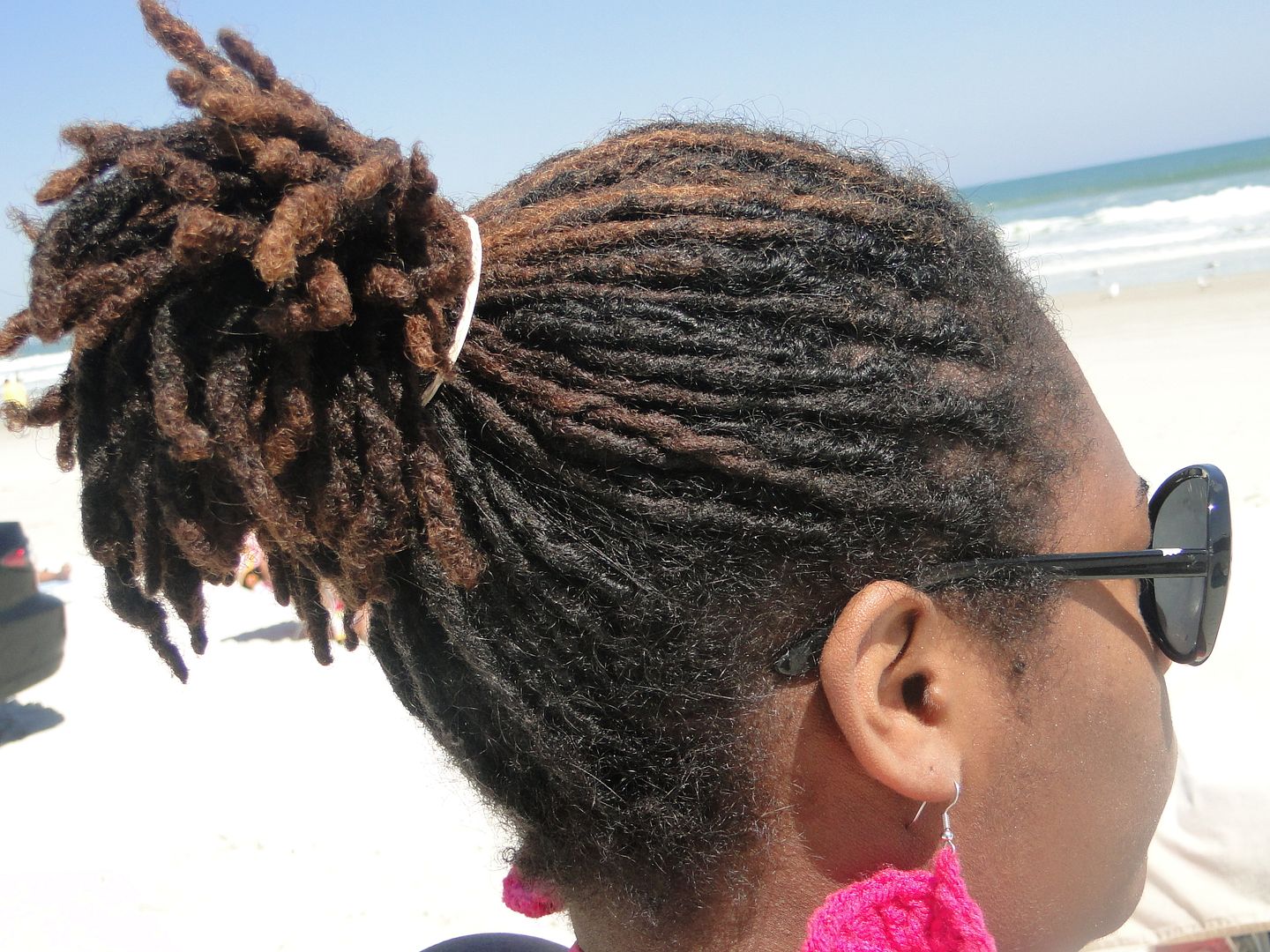 As most of y'all know, I am a native Floridian and a total beach babe. While life may transfer me to different states and countries, I have no doubt that I will retire at a location where the sun is always shinning and the palm trees are plentiful. That said, I'm not one of those brown girls that are fearful of the ocean. I've done everything from dive in the middle of the ocean at Turks & Caicos to banana boating in the Bahamas. I've water skied in Jamaica and snorkeled in Hawaii. And this past weekend I played at New Smyrna Beach.
As the weather gets warmer, I'm sure a lot of y'all will be taking trips to the beach. I've a few salt water swimming tips that I think will help newbie and veteran loc'ers alike. Remember...I ain't no professional. These are just tips that I have found works best for me and my locs. As always, consult with a loctician should you have any reservations.
1. If your locs can fit in a ponytail, put them up in a loose one. Wet hair is heavier and you don't want to pull on the edges any more than you have to.
2. For those with baby comb coils, be sure to consult with your loctician first before hitting the water. If you've washed your locs at least once before without any slippage, you should be okay. However, in their infancy, comb coils are prone to unraveling. Remember that and tread lightly. Check out the
post
of my locs at 6 months and the experiences I had with them while swimming.
3. Got color treated hair? The sun is no bueno for any of us. Spritz the locs with your favorite leave-in conditioner (you can make your own but diluting your favorite conditioner with water) prior to heading in the water. This helps protect the locs a bit. I also find that it keeps the hair softer as the salt water tends to dry them out. Use a liberal amount. Too much may result in build-up. And y'all know how I feel about build-up.
4. Don't plan on washing the hair immediately after leaving the beach? Be sure to rinse salt water out of the locs thoroughly. My hair is okay with not being washed right away but if feels a horribly crispy mess if I don't remove as much of the salt water as possible.
5. If you plan on air drying the hair, help it along by squeezing out excess hair using a microfiber towel. These soak up A LOT of water. But remember to get a darker colored one. White, pink, yellow and gray towels tend to leave lint in your locs.
Let me know if these tips are helpful. And happy traveling, darlings! I'd be remiss if I didn't recommend visiting one of Florida's fine beaches. Miami Beach is the perhaps the most beautiful (and populated) but don't forget the hidden treasures like Destin, Sarasota, Naples and Clearwater.
XOXO,