Hey y'all!
Yep - so this weekend the lovely Rikki of
Loc Inspirations
will be hosting one of her popular Loc Inspirations workshops. I've always wanted to attend one of these but they never seemed to fit in my schedule. Buuuut, I will definitely be making it this weekend and I can't wait! Y'all know I am the Queen of
No Hairstyles
simply because I find that most hairstyles seem to make my head hurt within an hour. I'll be chit chatting with Rikki to see if she has any recommendations for folx like me.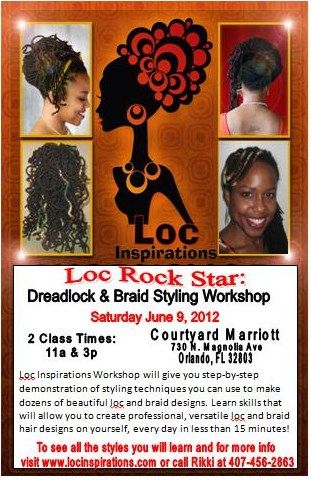 I will be at the 11am class.
Oh! And please don't think you have to have traditional locs to attend. If you're an enthusiast, rock braids (extensions or natural) or just want to get some insight on how to create gorgeous styles on loc'd and braided hurr, come out to the class.
The class is $15 if you register ahead of time and then it's $17 if you register at the door. You can register
here
. Hope to see you there!